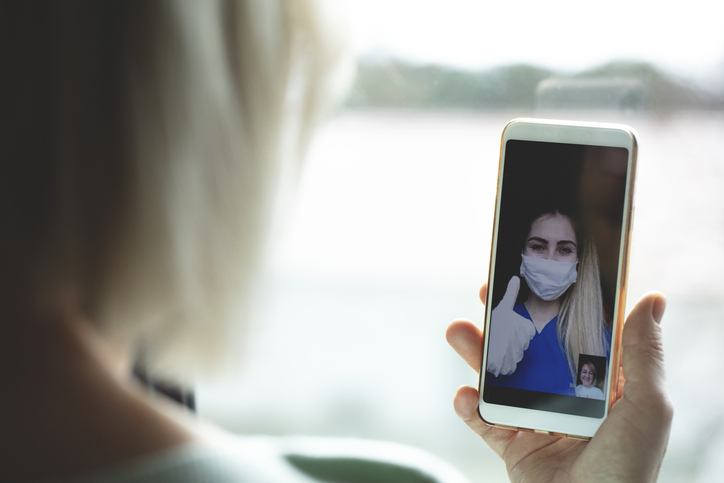 4 Top Nursing Trends In 2021
The new year of 2021 has finally arrived, and this year's top nursing trends are shaping up to look a lot different than in years past. After all, the world as we knew it has pretty much been flipped on its head due to the ongoing and devastating COVID-19 pandemic.
As nurses continue to fight coronavirus on the front lines, their roles are being transformed. Intense work schedules, critically-ill patients, new technologies, enhanced safety protocols, and mental and physical exhaustion are just a few of the challenges that these brave clinicians are facing. Yet, as they forge ahead, nurses across the United States are expected to come out of the pandemic stronger and more resilient than ever.
4 Nursing Trends That We Can Expect in 2021
1. Expansion of Telemedicine/Telehealth
2020 was a year like no other, and forced shutdowns required many healthcare practices to move their clinical care online where applicable. Telehealth utilization has skyrocketed over the past decade and it will continue to be an important trend in 2021.
The American Nurses Association (ANA) defines telehealth as "the use of electronic information and telecommunications technologies to support and promote long-distance clinical health care, patient and professional health-related education, public health and health administration. Technologies include: videoconferencing, the internet, store-and-forward imaging, streaming media, and terrestrial and wireless communications."
Nurses can play a key role in telehealth by not only facilitating online sessions but also training others on usage. Even before the pandemic, the American Hospital Association's 2018 member survey found that 76 percent of U.S. hospitals connected with patients and consulting practitioners at a distance through the use of video and other technology. Further growth is to be expected throughout the year.
2. Travel Nursing and Per Diem Nursing Will Remain Key
As long as healthcare facilities and hospitals are in need of staff, travel nursing, per diem nursing and other forms of temporary work will continue to prevail as a top trend. Travel nurse assignments typically last several weeks to several months, sending nurses to work in any state where they are licensed. Per diem nursing usually involves much shorter contracts and jobs are typically created to fill short-term staffing gaps or provide additional coverage during busy periods -- which is especially relevant during the pandemic.
As a per diem nurse, you can be called for a same-day shift, block booking opportunities a few weeks out, or even longer contracts that include temp-to-perm and direct hire. Both per diem and travel nursing offer a variety of benefits and perks, including great pay, flexible scheduling options, work experience, skill enhancement, continuing education, and more.
3. Increased Pay Rates and Work Options for Nurses
Nurses have seen nice gains in compensation rates over the years, and temporary staffing options like travel nursing and per diem nursing provide even more avenues for increased pay rates. Traditionally, these nurses can earn higher salaries than a permanent nurse, and the pandemic has only helped bolster the pay rates for those nurses who opt to work in crisis situations. Many travel nursing and per diem nursing agencies, including NurseFinders, are reporting an increase in weekly pay rates.
Healthcare agencies are also debuting new ways for nurses to earn money, such as AMN Healthcare's new Flex Team which allows nurses to broaden their experience and maximize their impact by providing patient care across several Providence St. Joseph Health facilities in the Los Angeles area. Each specialty-focused Flex Team offers:
Flexibility: Scheduling based on your availability
Stability: Work regular hours, and receive market-leading compensation and benefits.
Comradery: Join an exclusive team that cultivates collaboration and community.
Growth: Gain valuable, hands-on experience in a variety of specialty units.
Coaching: Benefit from career coaching and additional professional development opportunities.
Support: Take advantage of 24/7 access to an AMN clinical manager for support and issue resolution.
Guidance: Receive comprehensive, standardized onboarding and orientation.
Engagement: Connect with your peers through AMN focus groups, town hall meetings and more.
4. a New Focus on Nurses' Mental Health
Taking care of our mental health is just as important as our physical health, and this could not ring more true for nurses. Stress, fatigue and burnout can take their toll—especially in the current pandemic—which is why mental health awareness for nurses will be a major trend in 2021. There are countless resources available for healthcare workers, including many that are free. Virtual therapy and support groups, meditation and sleep apps, journaling, exercising and gratitude planning are just a few of the topics we can expect to hear more about this year.
The ANA and American Nurse Foundation's "Well-Being Initiative" provides free tools to support the mental health and resilience of nurses. They have a variety of applications and resources that nurses can leverage to prioritize their mental health and well-being, including a list of free and discounted therapy options.
NURSEFINDERS, an AMN Healthcare company, has thousands of rewarding per diem jobs across the U.S.
FIND PER DIEM JOBS or APPLY TODAY to get started.