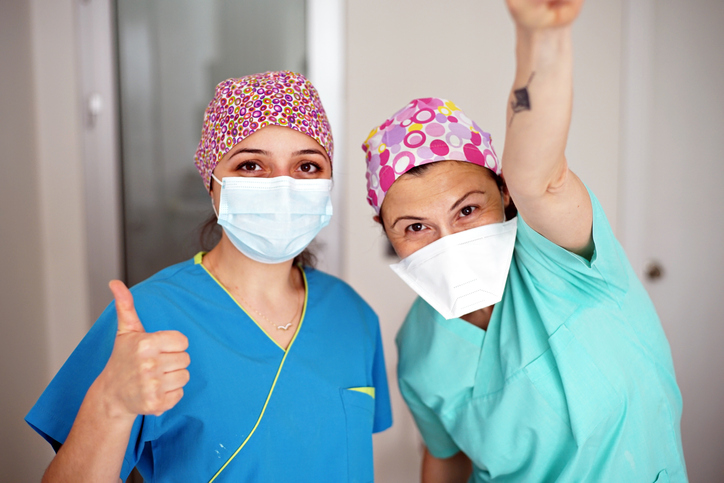 Nursing During COVID-19: 7 Reasons Now Is Still a Great Time to Be a Nurse
As the COVID-19 pandemic continues to rage, nurses are on the front lines – caring for critically-ill patients, keeping family members aware of changes in patients' status, and administering vaccines as hundreds of people wait in long lines for a chance to return to a more normal life. Watching the pandemic unfold on the news has led to increase in nursing school candidates wanting to help in the battle against the novel coronavirus.
"It is hard to imagine a better time than now to be a part of the noble profession of nursing," said Vanessa Battista RN, MS, CPNP-PC, CHPPN, a nurse practitioner with the neuromuscular program at Children's Hospital of Philadelphia. "I have never been more proud of my colleagues, my friends, and my profession."
The World Health Assembly designated 2020 the International Year of the Nurse and the Midwife. But this past "year's planned celebrations of nursing quickly turned instead to long hours of donning personal protective equipment, unfathomable numbers of deaths, and supporting each other in unimaginable ways," Battista said.
Yet, in the midst of these difficulties, there are several reasons that nursing is still a career worth pursuing:
1. Achieving Happiness
Greg Hammer, MD, a professor at Stanford University School of Medicine in Palo Alto, California, agreed that it is a good time to be a nurse, physician or other healthcare professional because it offers the opportunity to enjoy eudaimonic happiness, arising from service to others, which he said in his book GAIN Without Pain: The Happiness Handbook for Health Care Professionals, is enduring and associated with improved immune health and long-lasting well-being.
"It's a great time to be in a situation of providing a valuable service to people," Hammer said. "Although it's exhausting if you are on the front line with a lot of COVID activity, it's extremely gratifying to make such a big difference in people's lives."
Hammer said he appreciates the nurses he works with and the "huge difference" nurses make in patient outcomes.
2. Improving The Health of a Nation
"Nursing truly merges art and science to empower people to choose health," said Nancy Mimm, DNP, leader of the Master of Science in Nursing program at Harrisburg University of Science and Technology in Harrisburg, Pennsylvania. "This involves guiding individuals to set measurable and achievable health outcomes."
Mimm added that she has "taught many people with many different conditions, comorbidities, and illnesses to make choices that enabled them to improve their health."
Nurses empower people to improve their lives by focusing on the prevention of illness rather than curing the illnesses acquired, she added.
3. Meeting a Growing Need
Nurses remain in strong demand across the country. Several per diem and travel nursing companies are offering high pay rates during the pandemic. But even when the COVID crisis ends, nurses will be needed. Many people have delayed care and will return for elective surgeries and other procedures.
The U.S. Bureau of Labor Statistics projects an additional 221,900 nurses will be needed by 2029. Many nurses are nearing retirement age at the same time the U.S. population is aging. There always will be nursing jobs.
4. Shaping Healthcare's Future
By conducting research, nurses lead changes in practice and improved outcomes.
"Nurses also shape the future of healthcare and using evidence-based practice, refine emerging procedures into the existing body of knowledge," Mimm said. "As additional 21st-Century healthcare issues unfold, nurses represent the frontline providers of care establishing best practices that reinforce concepts of health equity and population health."
5. Exploring Alternatives
Nursing provides almost limitless opportunities. Tired of bedside care? A nurse can change to case management, outpatient settings, public health nursing, or home health care. During the pandemic, CVS has hired nurses to help with its vaccination programs.
Had it with your current nursing job? Temporary assignments including per diem nursing or travel nursing offer a wide variety of options across the country. Such arrangements provide an opportunity to work in new settings while gaining new clinical and communication skills.
6. Finding Opportunities through Education
An associate or bachelor's degree in nursing provides entry to nursing careers. But from that beginning many nurses return to school to earn master's or doctoral degrees, allowing them to work as advanced practice nurses.
Other nurses, such as Mimm, decide to pursue educating the next generation.
"When I made the choice to become a nursing educator, I wanted to empower my peers in all of the populations I served," Mimm recalled. "Teaching requires subject matter expertise as well as skill in creating measurable learning experiences and the ability to evaluate the effects of the lessons taught."
Numerous types of nursing educators exist, including hospital-based staff development and faculty at the university level.
"I feel a calling to ensure that students receive the education that focuses on best practices in nursing and their application," Mimm said. "As a nursing professor, I practice one of the coolest jobs that I could possibly imagine. I help shape new and current nurses to achieve a level of scope and practice that allows them to empower patients."
7. Rising to a Challenge
"Being a nurse means showing up, and being prepared to do whatever it takes for your patients, their families, and your colleagues," Battista said. "From the front lines to the classroom, and everywhere in between, nurses always rise to the challenge to protect, comfort, teach, and heal. For me, being a nurse is an art, an honor, and a privilege."
Nursefindersoffers fulfilling per diem nursing jobs in locations across the country.
FIND PER DIEM JOBS or APPLY TODAY to learn more.