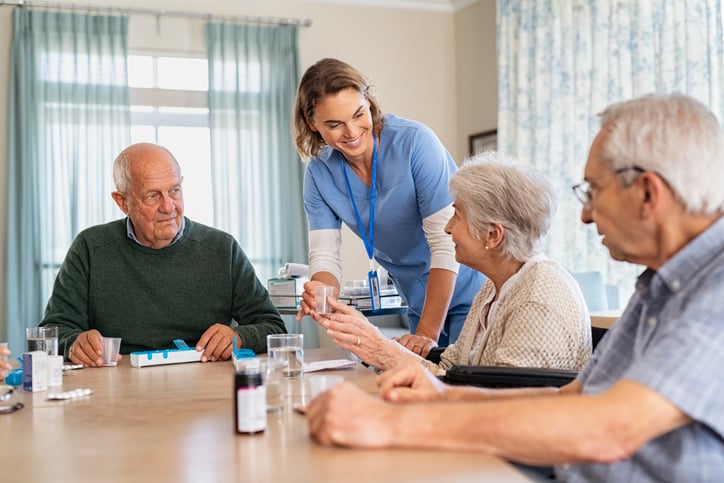 Celebrating CNAs During National Nursing Assistants Week
National Nursing Assistants Week, also known as CNA Week, is June 17-24, 2021, and Nursefinders is proud to recognize certified nursing assistants (CNAs) and other vital healthcare workers who provide care to millions of people across the nation.
According to the U.S. Bureau of Labor Statistics (BLS) and the National Network of Career Nursing Assistants, CNAs are part of a larger classification of nursing assistants that includes other state-tested nursing assistants (STNAs), licensed nursing assistants (LNAs), and registered nursing assistants (RNAs).
As healthcare demand continues to grow in settings ranging from hospitals to long-term care facilities and home health, certified nursing assistants can find excellent prospects for CNA jobs, either in staff positions or working per diem contracts with an agency like Nursefinders. The BLS and the U.S. Department of Labor forecast that the demand for nursing assistants is expected to continue growing at higher than average rates, primarily due to America's aging population.
All About CNAs: Requirements, Work Settings, and Duties
CNA requirements are mandated at the state level, and according to the BLS, nursing assistants typically must complete a state-approved education program and pass their state's competency exam. Most nursing assistants need a state-issued license or certification in order to provide care.
The work environment of a staff or per diem CNA varies, but the largest proportion of jobs are found in nursing homes and long-term care/skilled nursing facilities. The BLS estimates that approximately 37 percent of nursing assistants work in these types of facilities and 27 percent in state, local, and private hospitals. The remainder of work environments includes continuing care retirement communities and assisted living facilities for the elderly, home healthcare services, and government facilities.
A certified nursing assistant will perform a variety of duties on any given day, with most of the time spent on their feet. They regularly perform strenuous activities such as lifting, turning, positioning, and moving patients. CNAs communicate with patients; identify issues and help relay information to the healthcare team; bathe, dress and feed patients; keep patients safe, and much more.
CNAs assist with some of the most intimate patient care duties and oftentimes form strong bonds with those in their care. They work to establish good communication, offer encouragement, and demonstrate compassion every single day.
Celebrating CNA Week, June 17-24
National Nursing Assistants Week, or CNA Week, is a great time for employers, patients, and families to care for our caregivers and demonstrate gratitude for the work they put in all year long.
Genevieve Gipson, RN, MEd, RNC, director at the National Network of Career Nursing Assistants, said it's important to recognize, reward, and celebrate nursing assistants all throughout the year and spread kindness among one another. According to Gipson, "National Nursing Assistants Week is important because it promotes identity, and visibility and helps the community gain a better understanding of care and what it takes to be a caregiver. Nursing assistants provide 85 to 90 percent of the care in this country."
The National Association of Health Care Assistants (NAHCA) has created a toolkit for CNA Week and for the facilities where they work so that everyone can celebrate, recognize and pay their respects to the incredible work of these frontline heroes—especially considering the last 16 months of the COVID-19 pandemic. With printouts, social media templates, webinars and more, the toolkit can be used to spread awareness about CNAs and nursing assistants and the hard work they do.
Find Your Place with Per Diem CNA Jobs
Are you a certified nursing assistant looking to make an impact with a per diem CNA job or contract that allows you more freedom to manage your schedule? Nursefinders has hundreds of opportunities waiting for you. From acute care positions to CNA day jobs needing to be filled ASAP, we have hundreds of positions for qualified CNAs.
BROWSE all CNA jobs with Nursefinders.